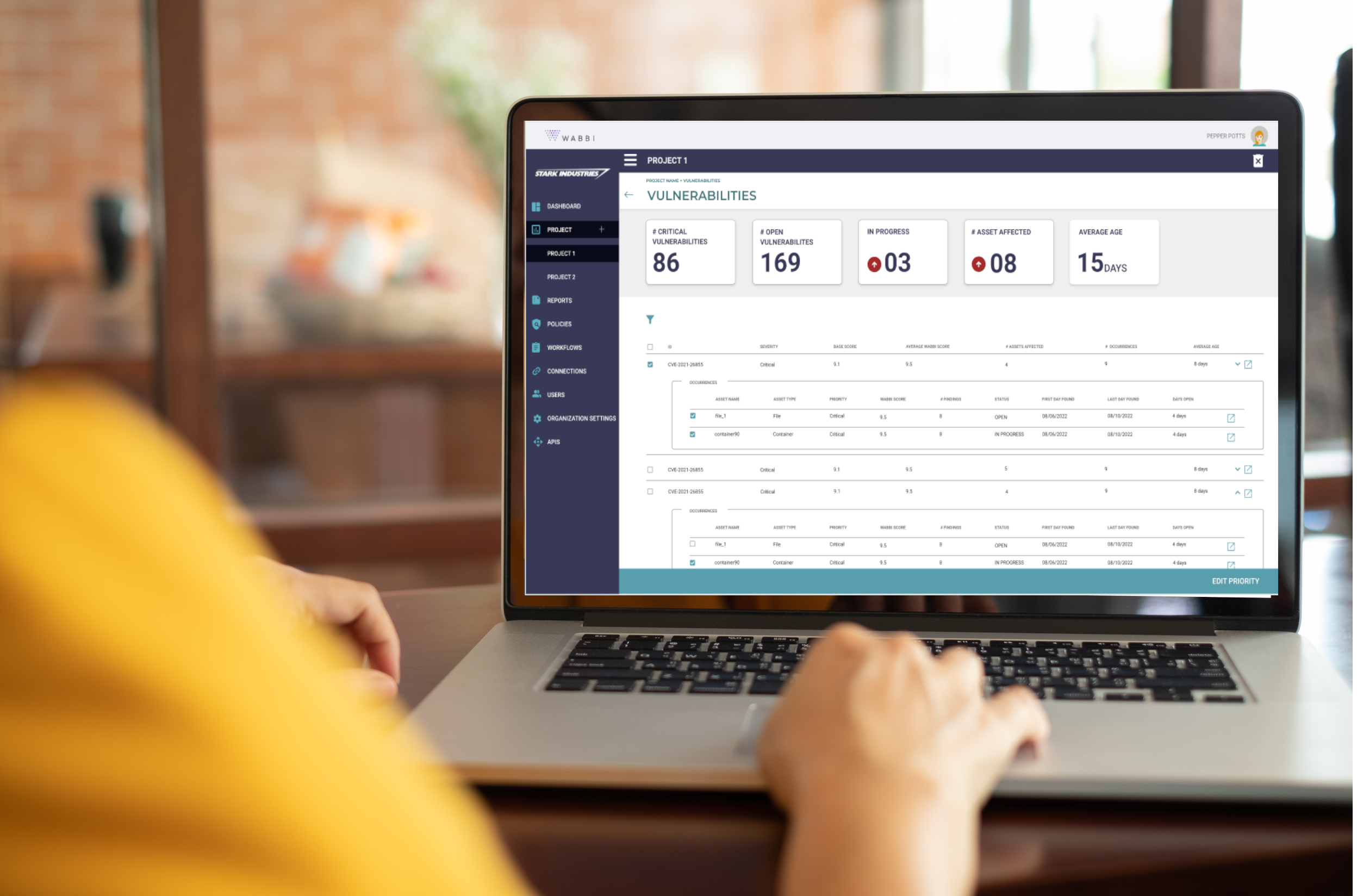 Context-Based Vulnerability Management
So are we, which is why Wabbi is thrilled to announce it's Next-Gen Vulnerability Management solution making it the only platform that manages the full application security testing cycle, from triggering the scan to managing, orchestrating, and analyzing it's results. This provides summarized analytics of all the tests that can be used to ensure the minimum threshold around security vulnerabilities has been met before allowing code to be committed to specified branches/environments to CI/CD pipelines.
WHAT ARE WE EXCITED ABOUT IN RELEASE 23.1?
PLATFORM
Advanced Vulnerability Table
Expanding upon Wabbi's core vulnerability management offering, 23.1 introduces a new interface that correlates across the full tool portfolio to analize based on the application specific risk metrics and the ability to grouping by asset to improve analysis capabilities. This provides an easy to navigate, unified view of all vulnerabilities without losing tool-specific information even when different tools describe the vulnerability with different names and provide different remediation guidance. 
PLATFORM
Custom Risk-Based Prioritization
You can't fix everyhting first: Not all occurrences can be addressed simultaneously, and not all the projects have the same severity. Wabbi's prioritization engine enables the user to configure the vulnerability priority to differentiate and estimate them, so that teams understand what has to be fixed immediately and what can wait. And with closed loop reporting into ticketing systems, this enables vulnerabilities to be managed from a single backlog without adding noise.
ORCHESTRATION
Security Scan Workflows
Well, you can't do vulnerability management without, security scans. With 23.1, organizations can standardize their software security testing methodology and workflows from a single location so the right tool is used at the right time without manual intervention. Using Wabbi's security workflows, you can: 
Trigger scans from your AppSec tools directly from your CI/CD pipeline 

Access the results in Wabbi's Vulnerabilities section

Build processes that trigger different actions, such as notifications & ticket creation based on scan results
MORE WAYS TO LEARN ABOUT CONTINUOUS SECURITY
ANALYST BRIEFING
Join Small World Big Data's Mike Matchett and Wabbi's Brittany Greenfield for a discussion on bridging the gap between security and development.
WINDOW TO WABBI 
Join Wabbi CTO, Kent Welch for a discussion on context-based vulnerability management & a look into our newest functionality with Q&A.